All purpose surveillance made by Law Enforcement
The founders of Valorence, Steve Condie and Slade Gurr, are dedicated to quality surveillance equipment. They have extensive knowledge and experience in the surveillance industry, as well as personal experience working patrol, major crimes, firefighting, IT administration, 911 dispatching, and in Law Enforcement in general. With over 30 years in law enforcement and over 25 years in the surveillance industry they designed camera systems to meet the needs of a large variety of industries.
Law enforcement agencies nationwide rely on mobile surveillance systems for everything from general crowd monitoring to covert sting operations and investigations. Valorence has superior technology, knowledge of the law enforcement responsibilities, willingness to help, and the ability to provide quality law enforcement surveillance systems.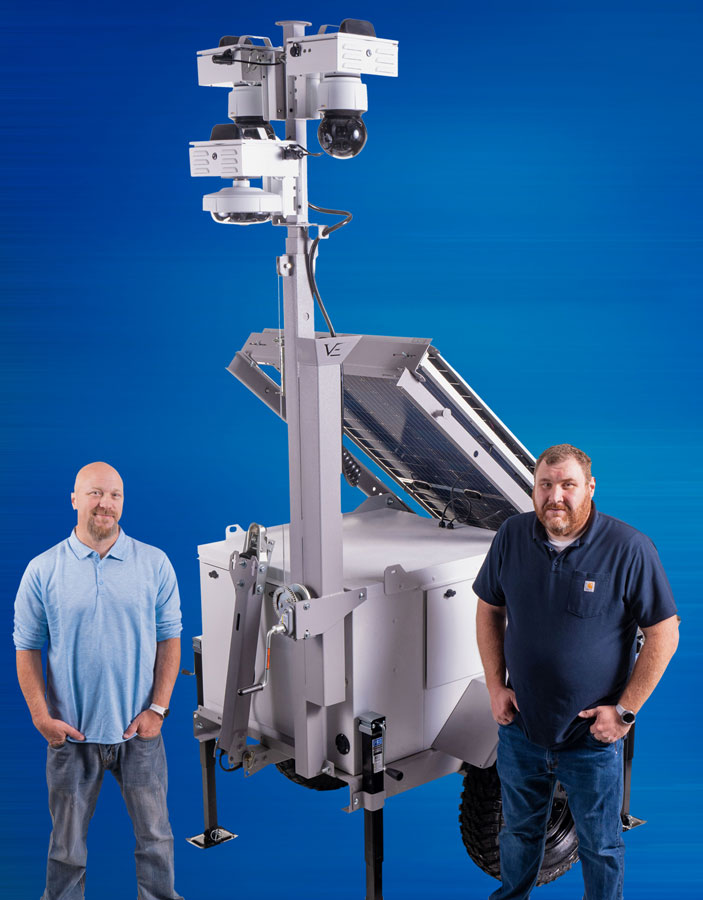 Surveillance Systems with Amazing Technical Support
Our 24/7 Technical Support is always available to assist with your mobile surveillance system, for those agencies who chose our mission critical support. We are here to support during set up and assist officers in the field. We provide on-boarding to new detectives and micro training sessions when they are needed.
We provide a service, not just a mobile surveillance products. Customer satisfaction is important to us, so our technical support team is easily and quickly accessible to resolve surveillance system issues within minutes. The ability to remotely manage, maintain, and support our mobile surveillance systems is one benefit with our camera systems that set us apart. Our technical team can maintain and disconnect power to components remotely and avoid the need to remove the camera system from the field. We understand the importance of being available day and night to resolve many issues with your overt or covert surveillance equipment.
Quality Surveillance Products, Unmatched Service
With experience in high-priority investigations and high value targets (HVT), we understand the value of reliable surveillance systems and tools that are easy to use. Each pole camera is hand-made, ensuring top-of-the-line quality and providing the best care for our customers. Our surveillance systems are quickly set up with multiple deployment options that will fit virtually any circumstance.
"Valorence is there for their clients. On more than one occasion we have had the experience to contact their support line and have had our issues dealt with immediately and in a professional manner. They go above and beyond to make sure that any issues are fixed and that we were satisfied with the outcome. They also wanted to find improvements they could make to their products and they were willing to take those suggestions and custom build a platform to meet our specifications."
"We requested a 360 degree camera solution that was reasonably priced but met all of our needs. Valorence worked with us very closely and designed a custom, compact and very well thought out camera system that exceeded our expectations. The quality and workmanship is second to none."
"Valorence has gone above and beyond time and time again! I have worked with a lot of companies and vendors and I can tell you now its not just me, its also our IT department that loves them just as much because Covert Law Enforcement always fix the issues we run into. When other vendors don't support their product or they simply referred us to our own IT department."